Long live King Kenny! He's coming home to as joyous a reception and will take up a role with the academy and as a global Ambassador on the commercial side, similar to Bobby Charlton at Utd. Good news all round.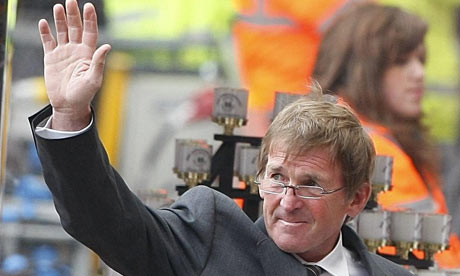 Paul Anderson is off to Forest for £250000 according to sky sports. Leto is heading off to Greece to join Panathinaikos, rather than Olympiakos. He never really built on his early promise in my so called life and requiem for a dream.

Glen Johnson has signed a 4 year deal. The kids keep coming. The latest signed include Jesus Suso Fernandez. No doubt he'll be the second coming. Another young spaniard en route to L4 is Luis Alberto of Seville, if this is to be believed. If you can read Danish you might learn that we're signing 16 year old Nicolaj Køhlert of Esbjerg. N'Gog has be joined at Anfield by his erstwhile PSG team-mate, defenderChris Mavinga. He also suggests that Alonso will be staying unless he hands in a transfer request or Madrid make us an offer too good to refuse. Messi wants Masch but Rafa says you're not getting him.

I'm not even going to bother giving the Ribery story a mention, just a bookie trying to generate business. If you're expecting discussion about Owen I'm afraid you'll be disappointed. I was completely nonplussed by his move to Utd. The interesting aspect was how quickly the press went from branding him a has been and a laughing stock with his brochure, to it being a master stroke by Slur Alex. Pretty funny. Fergie must have been won over by the glossy paper.

Here's a new book from an Irish author who lives in Liverpool and works for the club. I heard him interviewed on Today FM and I was impressed with his research. Did you know that our first ever manager John McKenna, was Irish? Could be a good christmas present for a fellow Red in Ireland.

That's all for now. If we make a big signing I'll post a comment but otherwise, I'll be back in August with a season preview ahead of the Spurs match. Enjoy the sunshine, or rain if you're in Ireland.