The 1-0 win over Villa was so badly needed. We played well and were the better team but an injury time winner always makes the victory even sweeter. It didn't go down well in the sky studio. Keys and Gray were sick that we hadn't read the script and had the temerity to win a match. The cheek of us.

Villa had some chances but our margin of victory should have been greater. Dirk had a nailed on peno refused in the first half. I'd love to know why the ref refused to give it. Dirk had another mediocre game. He's been off form for a long time now. Aquilani started again and was good in the first half but faded in the second. It'll be a while before he delivers two good halves. He's neat first time passes really seem to work well with Yossi and Stevie. Lucas had another good game. He shines more when Masch is out.

Check out the FT9 site for an understated reaction to our late winner. Take it handy lads. El Nino is the quickest Liverpool player to score 50 league goals. He's also the fourth fastest player to 50 premiership goals. BUt the difference with Torres is that he doesn't take Penalties. Here are his 50 goals.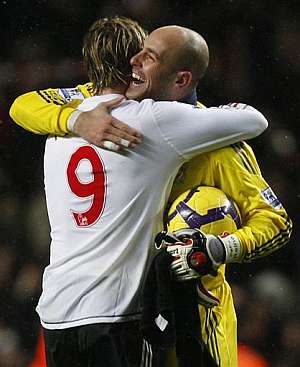 GloJo suffered a tear to his medial ligament which means he's looking at an extended period on the sidelines. This is pretty shit for him as he's been great for us until recent weeks when his form dropped. I hope that young Kelly is fit enough to get a few games in his absence. Niether of the right back alternatives, Carra or Degen, fill me with huge amounts to confidence.

It's the "magic of the cup" on Saturday with a trip to Reading. I expect a fairly strong team but the likes of Pepe, Dirk, Insua, Torres and Gerrard can expect a rest. Maybe we'll see our wunderkind Daniel "Paches" Pacheco get a start? If not he's likely to come on at some stage. It'll be interesting to see who starts at right back. As it's a cup game, it could be Darby or Degen. The cup has more importance than usual this year since we're out fo the champions league. As usual, it'd be great to win it, but I'm not going to cry if we get knocked out. Finishing in the top four is much more important for our future.

Dossena could be on his way to Atletico Madrid according to Sky Sports. Palace forward Victor Moses is also being linked with a move. We've held talks with him according to the Star. The Liverpool Echo says that we're quite close on a loan deal for Maxi Rodriguez. He's a really good player and would give us a quality option on the right hand side. He links well with Nando from their time together at Atletico.

Purslow reckons work on the new stadium will begin in April 2010. A likely story. Here's HKS talking about the new stadium design.