Does a 3-2 away win get everything back on track? In a way yes. It was important that we went into the international break of the back of a win. As is often the case, we didn't do this the easy way, falling behind twice to scrappy goals. But Glo Jo got the first to leave us level at half time. After conceding early in the second half, we went on the rampage, which became easier once Davis was sent off for a second yellow. El Nino scored after a superb lay off from Dirk and Gerrard added the winner with a few minutes to go. We battered them second half and could have added a few more as Gerrard hit the bar and Torres had an effort cleared off the line. Some fairly measured analysis here from Le Tisier on Sky Sports.

I wouldn't say it's all full steam ahead but it's a definite improvement on the Spurs and Villa matches. But the defence is a real cause for concern at the minute. If we don't get our act together we'll win eff all this year. Kyrgiakos made his debut and did ok. He's clearly good in the air but was sloppy in possession a few times. Carra hasn't been helped with trying to organise a defence with 2 new players and an inexperienced one in Insua. I'm hoping that Aurelio and Skrtel will be back for the next match against Burnely on Sat 12th.

Now that they seem to be over their giant killing spree, it should represent a good opportunity for us at home. They play a fairly open game which should leave space for our stars to exploit. Johnson can continue his fine form and make the right flank of the pitch his own. He's been nothing short of a revelation so far. Long may it continue.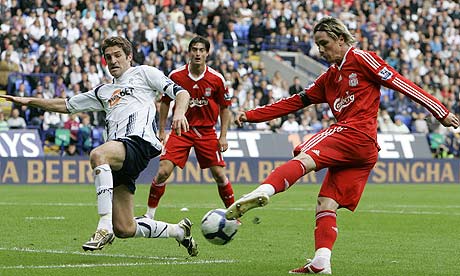 The draw for the Champions League group stages was made on Thursday. We're in a group with Lyon, Fiorentina and Debreceni of Hungary. Is Hungary a country? Lyon will be tough enough but we should be good enough to top the group.

Paul Tomkins has a good article on the need for patience. He compares the treatment that different premier league managers receive for the same behaviour. Well worth reading.

Looks like Andrea is going nowhere. Earlier in the summer it looked like he might have gone to Napoli or Juve but at this stage he seems set to stay. Similarly I don't see us selling anybody else as there would be no benifit to doing so. Itandje is off to Kavala fc on loan. Even if Rafa were to get a good offer for him or Babel, he's unlikely to get the money to reinvest. Thanks very much Chris Purslow, Tom and George. A fine bunch of pricks.