And win the champions league. Wouldn't that be hilarious? I think David Moyes would explode with bitterness. It'd be worth it to see the look on his face. The sky camera could go live to his gaff as we pick up the champions league trophy. I'm fantasising of course, but isn't that what the internet is about?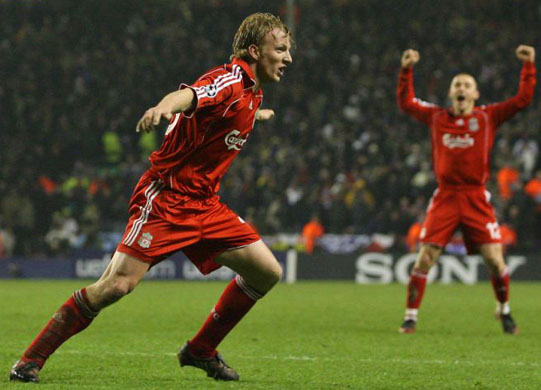 Great game last night. I really enjoyed it. It was the best that we've played in a long time. We were the better team by far, even before Matrix got himself sent off. I thought that Inter looked nervous from the off and got worse when a man down. But we played well all over. t was a team effort. Defence didn't have a huge amount to do but did it well when called upon. Aurelio and Finnan especially overlapped well to join the attack. Aurelio could do with improving his crossing and set pieces were dire but he's not on his own there. Masch, Lucas and Stevie were class in the middle. I don't think that there is a better player of his type than Mascherano. He is boss. Gerrard struck his goal really well. Big european nights seem to get the best out of him. He should have had a penalty too, when the guy pretending to be Patrick Viera handled in the box.

Dirk and Babel did well supporting Torres. Dirk had his best game this season. His touch was much improved and he took his goal well. I'm hoping that this will help him and his confidence. He's had a really hard time in his private life over the last few months and I don't think that it's helped his game. But he never hides and gives his all even when he's playing poorly. His long term future may lie elsewhere but I'll always have a soft spot for him.

Babel, like most games this season mixed the sublime with the stupid. He has great skill, pace and power but isn't making the most of it yet. If he can improve his decision making and develop his vision he will be superb. But we'll have to be patient with him for now. El Nino did well and was very unlucky to see Cesar knock his effort around the post when he was clean through. Pity.

The second leg won't be easy but we've given ourselves a great chance. Inter will be without Matrix who is suspended and Cordoba who is very unlikely to recover in time. They will be a lot more confident at home, I would imagine, but if things don't go their way early then the crowd may get on their backs. Should be a great night in three weeks time.



It's time to butter our premiership bread with a spread of Boro on Saturday. We really should be beating the likes of Boro at home. The press talk this week is that Rafa is going to cut down the rotation for the rest of the season. It'll be interesting to see what team he picks.

Ballague in the Times has a good interview with El Nino. He does seem to have a habit of getting interviews with top people in the game.

This could be worth keeping an eye on for the summer. Fernandez is a player that I haven't seen much of but I like what I have seen. He's quick, left footed, scores goals and has great set piece delivery. Tim Vickery on the BBC rates him highly. The source, tribal, isn't reliable so I wouldn't be classing it as nailed on just yet.

The DIC rumours won't go away. The latest wildfire on the forums this week is that the deal is all but done for them to buy from the Yanks. I do think that it will happen eventually but it could be a long time off yet. I have no insider knowledge but am not counting any chickens until I see the Sheikh or Al Ansari in Anfield.