It's been described as a modern day classic and it's hard to argue with that. 6 goals and some incredible football from both teams, along with a cracking atmosphere gave us a night to remember in Anfield. This is going to go down in the history books alongside the victories over Chelsea, Olympiakos and Juventus. Thanks Rafa.

It's one of those ones where it seems churlish to talk about individuals. There were many star performers. Torres scored an incredible goal after a flick on by Crouchie. I hope that he got his nachos after that. The of Carra, Sami Skrtel and Aurelio all made telling contributions. Sami trumped the others by scoring our first goal with a towering header when he lost his marker, Senderos. The midfield, and indeed the whole team struggled initially but started to assert themselves after the Sami header. Mascherano was immense and tackled anything that moved. He still had the energy to make bursting runs late on in the second half. Alonso was only ok as was Gerrard but he did show balls with a great peno. Kuyt was a colossus. He passed the ball forward for Babels goal but his contribution over the course of the game was huge. The guardian gave him an 8 out of 10 mark. It was one of those nights where his touch was good and that makes a big difference. This allied to his movement and game intelligence makes him a very useful player. When his touch is off, he's not half as effective. Babel was a match winner when he came on. He wasn't fit enough to start but won the peno and scored the winner with a superb breakaway goal. Fantastic cameo and a masterful sub by Rafa. He needs to build on this in starts over the next few games and moving into next season. This boy is going to be a star when he puts it all together on a consistent basis.

The belief and character that this team has is amazing. To come back from being behind in the tie twice, against a team we're told is superior to us, is a superb feat. But it's nothing new. We've seen these kinds of displays numerous times since Rafa's arrived. So while the character of the team is nothing new, the skill and verve on display is something new. The likes of Torres and Babel have given us an extra dimension this year to hit teams with pace and flair. Add this to the talents of Gerrard and Alonso and we're a match for anyone. We've been inconsistent, but when it's worked, like it did in the second half last night, it looks pretty good.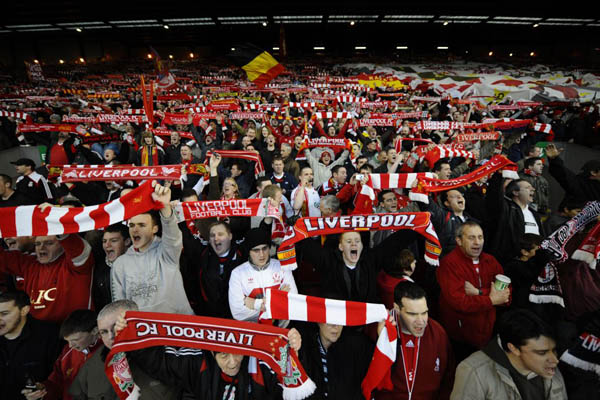 Rafa was impressed with the crowd at Anfield. I know that it's become something of a clice about Anfield on the big European nights but they were in fine voice again last night. Souness was talking about it on RTE beforehand saying that nowhere in Britain compares, with the possible exception of Parkhead and Ibrox. I know it can be a bit flat for run of the mill league games, but the fans, like the team, seem to be able to raise their game in Europe.

As John Nicolson said in his fantastic piece on football 365

Liverpool winning a big European game with the crowd singing at 130 decibels and the yellow glow of the floodlights illuminating an ink-black, rain-strewn, north-western sky, means all's right with the world, somehow.
While I can't buy into his urging for us to support all English teams winning in Europe, there are some great memories and sentiments in the piece.

Away from the first team, there was mixed news this week. Sean Highdale, a 17 year old at the Academy was involved in a car crash which killed two other passengers in the car. He is expected to make a full recovery which we can be thankful for. On a more positive note, the reserve team beat Blackburn with a goal from Nemeth, to win the reserve league North. It's mainly composed of young imports and academy graduates rather than mature has beens who're no longer able to get a first team place. The likes of Nemeth and Insua are very highly thought of and will hope to follow Pelssis into the first team sooner rather than later.

The BBC have an interesting interview with Rogan Taylor on Share Liverpool. It sounds like a great idea but I don't know if it will ever happen. I would love to get involved but I doubt that I'll have a spare £5000 for a few years. Maybe they will be able to sort out a minority shareholder system with one of the Americans or preferably DIC.

Ballague suggested in the times podcast that we have deals lined up for one senior player for the first team and two youngsters from South America lined up. This had led posters on the forums to speculate on who the youngsters might be. Two names being put forward are Diego Buonanotte from River Plate and Pablo Piatti from Estudiantes. This report from goal suggests De La Red is heading back to Real in the summer. There was a lot of speculation linking us to him in the past and he would be an obvious candidate to replace Xabi if he does move back to Spain this summer.

We can look forward to Blackburn match on Sunday with slightly less pressure on us. They've given us problems in the past but we should be able to beat them at Anfield considering that they don't have much to play for. We can't really afford too many slip ups with Everton breathing down our necks. In the longer term it's going to be two more games in Chelsea to look forward to or not. These games are not in any way enjoyable and have to be endured. It's going to be really tense.

Until next time.