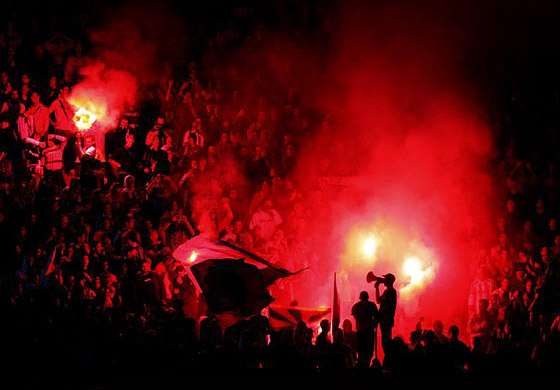 A Marseille fan flares a box of matches to celebrate their short lived lead.

What a goal? Absolute stunner. I don't think he'll score a better one this season and maybe not any other season either. Incroyable as they might say in Marseille. Added to his penalty, it wasn't a bad contribution from the skipper in his first start since his double groin op. Hopefully he's put his injury probably behind him and will be fully firing now.

Overall we weren't great. We looked quite good going forward but quite vulnerable to pace at the back. Our normally efficient offside trap failed to spring a few times and through balls were snapped up by Marseille's nippy forwards. Cana managed to score against Pepe on one such instance but our keeper stood tall and made a couple of vital saves. Only for him it could have been a draw or worse. But it's a very important win against a very good team, away from home. That was the second hardest match we'll have to play in the group. I expect the visit to Madrid to be even tougher.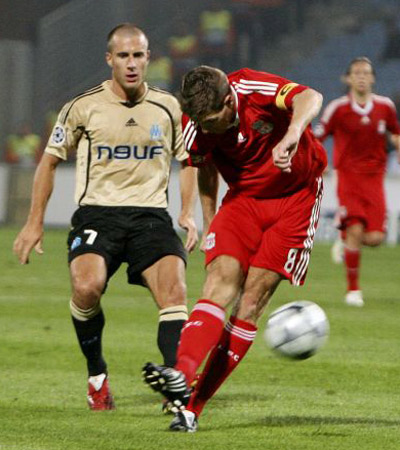 Pepe has a great quote in the guardian about the feeling in the camp at the moment.
"The atmosphere is special at the moment and we don't go out thinking about anything else but winning," said Reina. "We are Liverpool and we are favourites. We are in the business of having to win."
I like the sound of that. We're favourites and we accept the pressure that goes along with it but we're going to win regardless. With that in mind, we should be able to beat Stoke handy enough. It would be a disastrous slip if we got anything other than 3 points at Anfield on Saturday. Given that Chelsea play Utd at the bridge on Sunday, it's a good opportunity for us to put some distance between us and them. Let's hope we take it and stay at the top end of the table.