The sporting week has been pretty crap for me as I was supposed to attend the Spurs match at Anfield only for it to be cancelled. This left me disappointed and out of pocket.

It continued with a dismal F.A. cup exit at the hands of Reading on Wednesday night. Watch this if you dare. We were shocking and Reading deserved to go through. To make matters worse, we lost our three most attacking player to injury. Torres is out for six weeks, Gerrard for a fortnight and Yossi three or four weeks.

So we travelled to the Britannia without Gerrard, Torres, Yossi, GloJo and Agger who got injured before Saturday. This meant a reshuffled team built for Stoke's aerial bombardment, and it very nearly worked. Kyrgiakos was drafted in at the back, to head away the artillery fire. He had a great game and did a passable impression of Sami H. He even managed to score the opening goal after some confusion in the box. Maxi got a run out in the second half. Unfortunately Huth scored at the death to level it. 1-1 was rough justice for us but you don't always get what you deserve in this game, especially with shit referees like Lee Mason around. We could have had a peno when Lucas was taken down but he booked the Brazilian instead and then gave a goal kick. If he believes the defender got a touch on the ball, how is it a goal kick? Kuyt and Ngog laboured up front and Dirk hit the post in the closing minutes. A few inches from salvation.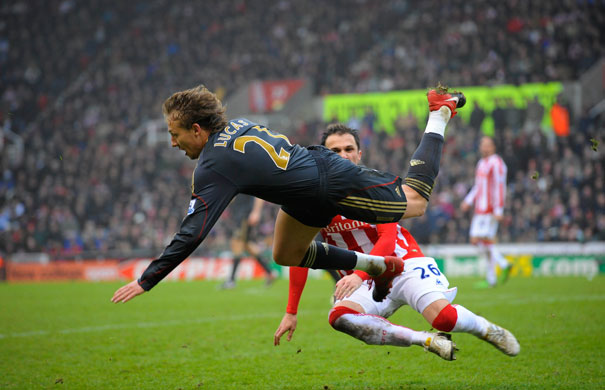 Next up Spurs visit Anfield on Wednesday for the rearranged match. This is going to be really tough. I would expect that we'll see some of the guys who were rested yesterday get a start, like Riera, Maxi and Aquilani. I don't know whether we'll go with Kuyt or Ngog up front but it will probably be Kuyt. I'm hoping that Agger is back for this but there doesn't seem to be any easing up of the injuries at the minute. It's going to be messy and I don't see us getting much more than a point.

Watch this bit of madness to try and cheer yourself up. It probably won't work but it's worth a try.

Dossena has completed a €5m switch to Napoli. If for nothing else, Dossena will always be remembered for this and this. The less fondly remembered Voronin also completed a move this week. He's off to Dinamo Moscow for £2m. The Liverpool Echo suggest that we might be in for Jeremy Menez at AS Roma after he fell out with Ranieri.

Pacheco is thankful for the help he's received from Torres. It must be great for the young Catalan to have Nando there to help him settle in L4. Our younger youngsters had a great victory in the FA youth cup this week. They beat a much fancied Leicester team 5-1 to go through to the next round. Lauri Della Valle, our fab Finn, was the hero on the night with a hat trick. You can watch highlights here including an interview with Rodolfo Borrel the Academy manager.

Tom Hicks Jr got himself in a bit of hot water this week with an abusive e-mail to a Liverpool fan. Silly boy. You can read what the Guardian had to say about it here. It resulted in Hicks Jr resigning his position on the board. Rafa gave further news of how shit things are under the Yanks. If a substantial bid comes in for our top players this summer then we'll have to consider it. Let's hope the club is sold or there is some investment in the meantime.