Sometimes you get the rub of the green, and we definitely did here. A 2-0 win may have been more than we deserved on the balance of play as I thought Everton deserved a draw. But they didn't take any of their chances. We took two of ours and that was enough. They were on the receiving end of the kind of game we've endured this season, playing well but getting less than you deserve. "Ahhhhhhyyyyyyyy", as the Fonz might say.

Javier got lucky with a long range shot which deflected off and Everton defender. I was shouting at him not to shoot, which goes to show how much I know. Maybe he'll follow in Fat Franks shoes and make a career out of deflected shots. Pepe made a superb double save to keep us in it. I have no doubt that he's the best keeper in the league and has been our player of the season so far. Stevie had a poor enough game but harried Hibbert enough to lay the ball onto Riera. The Spaniard's shot didn't beat Howard but he could only parry it onto Dirk who finished from close range. Kuyt has been in shit form for a while so I'm hoping this will help him recover.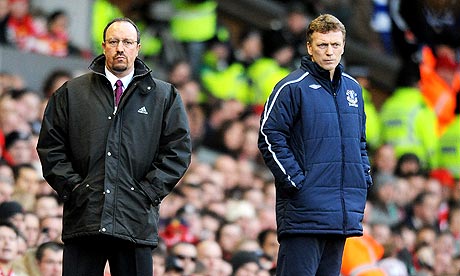 A scrappy derby win can be worth a lot to a struggling squad. We now have a week off until the Blackburn game on Saturday. They aren't in good form either but we should really have enough to put them away. There is a chance that Torres will be back and Gerrard and Aquilani will have another week's worth of training.

Sky Sports have an article in praise of Liverpool's number 24 David Ngog. He's come on a hell of a lot this year. It's clear he's no Torres but he's scoring goals and improving his overall play. He's worth well more than the £1.5m Rafa paid PSG for him.

Aurelio has rejected a pay as you play contract. I'm a fan of the Brazilian but he is brittle. Hopefully he signs up and continues to contribute over the next few years. He could be a good mentor to Insua and Butchtmann.