Our Europa league campaign began with a 1-0 win over Unirea Urziceni visiting L4 on Thursday night. We made a bright start but it settled into a poor enough game with Unirea packing defence, trying to get a draw. We created quite a few chances but our finishing was off and we struggled to convert our superiority into goals. Second half sub Babel impressed after replacing the disappointing Riera. The impact sub role is one that Babel does well, much better than his performances when he starts. Young Danny "Patches" Pacheco came on and managed to set up Ngog for the winner with a far post header back into the path of the frenchman. Pacheco has had a few impressive cameos this season and this was another one. Let's hope he gets some more before the end of the season. Anfield likes to see a teenage prodigy strut his stuff on our hallowed turf.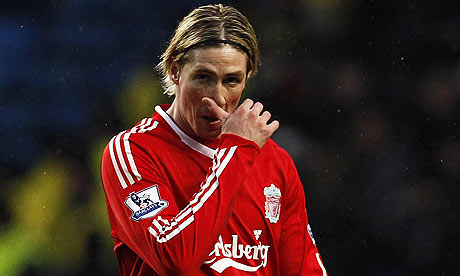 The week finished with with a bit of a damp squib today. We played out a 0-0 draw with City at Eastlands but in truth, it was a game low on quality. Neither team played very well and a point a piece was a fair result. Our defence coped well enough with what City threw at us with Skrtel doing a good job on Adebayor. He was guilty of spurning out best chance of the game when he headed wide from a Gerrard corner when he really should have done better. Our passing was sloppy in midfield and our movement was slow and laboured up front. We did improve when Yossi came on for the ineffectual Babel. It was great to see the Iraeli back in side, he's been sorely missed. We even got to see El Nino make a surprise cameo off the bench. I hope that the two of them get match fit ASAP.

It's more Europa league "action" this week. Let's hope that we keep another sclean sheet and score a few goals, something we haven't done much of on our recent travels. Maybe we'll see Pacheco get some more minutes. But it's another game that it's hard to get excited about. I would like to see us go all the way in the Europa league but it's hard to get into it at this stage, when playing the lesser names of Europe in far flung outposts. Given the season we're having, I suppose we have to take the victories anywhere we can find them.