Another Darby victory, a 1-0 win at Anfield, was enough to put us back into fourth place. Other results went our way with Spurs drawing and City losing so our champions league faith is back in our own hands now. Things are a lot rosier than they were a few weeks back.

It was a poor enough game but lots of tackles and fouls which appeals to old school fans. I thought we were the sightly better team but there wasn't in it. It was an even enough first half. I thought Fellaini could have seen red too for the Kyrgiakos sending off. I've no arguments with the Greek getting done for that challenge. Pienaar should have gone for a shocking tackle on Mascherano in the first half. The Ref was poor enough all match.

Deadly Dirk did it again with a header before half time. He's making a habit of scoring derby goals. Moyes and the toffees must hate the sight of him. He performed well as did most of the team. Javier did a good job when moved to right back when Soto saw red. Lucas and Gerrard held the midfield and the defence dealt with what little Everton threw at us. It's a pretty damning indictment of them and their manager that they couldn't make their man advantage count and we were never put under any serious pressure.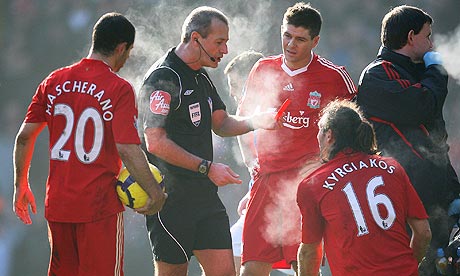 All of the results went our way yesterday. Was hoping for a Villa draw or win. Nice to see City fuck it up too. We've two massive away game with Arsenal and City in our next two fixtures. Arsenal lost to Chelsea yesterday and they might be vulnerable when they play us on Wednesday night. Even at that, they're good at home so I'd be surprised if we get more than a point there. We're coming back into form but they're still the kind of team who could rip us apart. I'd be more than happy with a draw in the Emirates as the City mach could be much more important in relation to the race for fourth.

LFC.tv showed the top ten derby goals of the decade this week and you can view them here. Some crackers in there but I think the Gary Mac one is still my favourite.

Here is Rafa putting a sky sports reporter in his place. About time.

Sky Sports reckon that we're going to sign Jovanovic on a pre contract agreement. Young Bulgarian Keeper Mihaylov has joined FC Twente for £1.5m. We made a very healthy transfer profit this Jan with the his sale added to that of Voronin and Dossena. Maxi was the only arrival and he came on a free.