That was a world away from the Wigan game. Portsmouth came to Anfield last night and left on the wrong end of a
4-1 hiding. We were great. Two goals for a rampant Torres, one for Babel and a first Liverpool goal for Alberto Aquilani. Indeed, it could have been more as we should have had a peno when Johnson was taken down and we hit the woodwork twice. All in all, just what the doctor ordered.

Aquilani impressed me greatly on Monday. Highlights here. It must be admitted that it was against Portsmouth and he got a lot of time and space in the middle of the park. He dictated the play ala Xabi at his best. I hope he can build on this and establish himself in our midfield. We've sorely missed some creativity in there, no offense to Javier or Lucas but it's not their forte. I would like Rafa to give him starts for the rest of the season so he can get more experience. He looked stronger, quicker and more confident last night. Great performance and justified man of the match.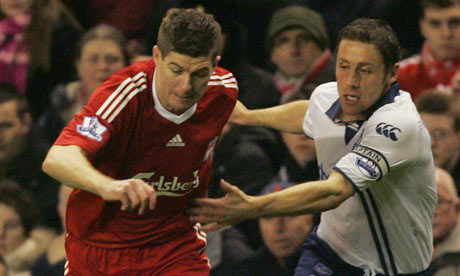 Gerrard should consider himself lucky not to have received a red card for an elbow on Michael Brown. Given the player that's in it, I can nearly understand why he did it, possibly avenging this headbutt. As it happened, the ref decided that to give a free against Liverpool and talked to the player so he won't now face an F.A. ban. Silly boy as he would have been out for three games and unavailable to play against the Mancs in Old Toilet on Sunday. This is going to be massive. We've a great record against them having won the last three meetings in the league. And we have the advantage of an in form Torres ready to put the shits up his mate Vidic. Let the slaughter commence. Another red card for the Serb would be lovely. In reality, they're playing much better than we are at the moment and I'd be surprised it we took more than a point. I would like to see the same team start as played against Pompy but we'll probably see Lucas and Dirk come in for Aquilani and Babel.

Before all that, we face Lille in a vital European game at Anfield on Thursday. They've got the goal advantage from the first leg so we need to score. We might see a similar team, with Yossi in for the cup tied Maxi. Finishing in the top four is a bigger prize than the Europa cup but it's going to be harder to win given how often we've slipped up in the league. I suspect fourth is beyond us now as City and Spurs have too many games in hand.

The Mirror recken we'll bid £8m for Steven Ireland. He's out of form and favour at city so they'd consider letting him go. I think he's top quality and would love to see us bid for him even if he is a bit of a mentalist.

Aldo was impressed with another Irish midfielder at the Wigan debacle. James McCarthy was probably the best player on the pitch and looks to have a real future ahead of him. We tried to buy him before and should go in for him again now that he's showing he can adapt to English football.