What would you prefer, a Europa cup or fourth spot in the league and a Champions League place? I would have said fourth spot at the start of the season but as time goes by, I'm warming to the idea of a Europa cup. The
4-1win over Benfica on Thursday night got the heart racing. It was a great performance from the lads. We went at them, like we often do at Anfield on a European night. If only we had taken this form into our away league games this year.

Dirk Kuyt opened the scoring and Lucas followed soon after. It was the Brazilians first of the season and he showed great composure to latch onto a superb ball from Gerrard and round the keeper. I think the kop would like to see more of that side of his game. Our third goal was a superb counter attacking move at pace with Dirk hitting a class cross from the right and El Nino slotting home. Torres lobbed the keeper for the last goal after a superb Lucas tackle in the middle set us on the attack. The only downer on the night was the consolation goal for Benfica when a free kick took a deflection off the wall and went in. It gave us a few nervous minutes before we got our fourth. Special mention to Javier and Fernando who avoided bookings which would have kept them out of the next round. Not so Sergio Aguero who was booked in Ateltico's match with Valencia and he'll miss the first leg, two weeks from now. Atleti will be a tough game but we should be able to beat them over two legs, despite their talented squad.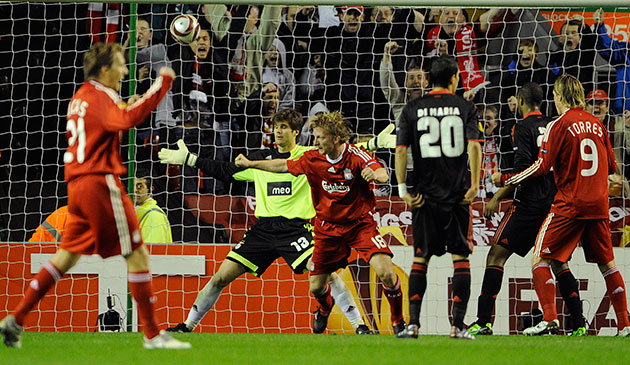 It's back to the league matters tomorrow with Fulham visiting Anfield. The cottagers could be Europa cup final opponents if we manage to get that far. Their away form isn't great unlike our home form which means we really should be able to do them. I know the chances of sneaking fourth are slim but we have to keep pushing in case City do slip up.

Pepe Reina has given us a massive boost by signing a six year deal which will keep him at the club until 2016. This is brilliant news. I wouldn't swap him with any other keeper in Europe, with the exception of Casillas.

Rafa has said that we need investment in the team and we won't get back to competitiveness by wheeling and dealing as we have been doing over the last two seasons. If it's not forthcoming, I can see him leaving the club in the summer. That would suit Hicks and Gillett as they wouldn't have to pay him off and could get somebody cheaper in to do a job.

The Mirror have a transfer rumour with quotes from Dutch Wunderkind Georginio Wijnaldum, saying it would be a dream move for him to come to Liverpool. Let's hope that he lives up to his billing, unlike our last dutch Wunderkind, Babel. Feyenoord would want around £5m for him.