Atletico beat us 1-0 in Madrid on Thursday night to put them firmly in the driving seat of this two legged tie. In truth, it wasn't a great game or performance from either team. Forlan did well to beat Pepe but it was a scrappy goal that we should have cleared. This was compounded when Yossi scored a legitimate goal minutes later which was disallowed for offside. Ngog struggled up front and couldn't hold the ball up on his own. Atleti will be happy that they managed to prevent us from scoring and will fancy their chances at Atfield on Thursday given they'll have Aguero back, we're missing Torres and they have a lead to protect. Not good. We can do it but Atleti are deserved favourites.

We finished the week with a 4-0 away win over Burnley. The first half was crap and we only got going with a deflected goal in the second half. Gerrard's strike wrong footed the Jansen when it took a deflection off a defender. His second was a sweet strike from distance, the kind of goal which he made his name with. Maxi scored his first goal for Liverpool, not before time. He's been a superb signing since he arrived and you can see how his technique, passing and movement help those around him. I expect him to bag a lot more goals next season.

Aquilani had a good game and reveled in the space available to him. He managed to set up three goals which is a pretty good return regardless of the opposition. I would like to see Alberto get an extended run and build on it with a full pre season behind him next season. Rafa has said he could play in the hole more regularly rather than in central midfield.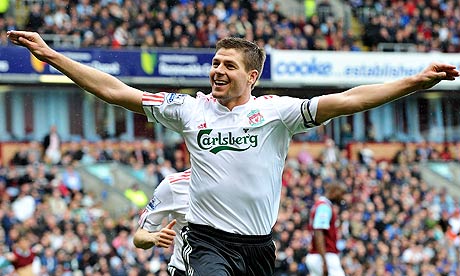 Some of the UK Press have been linking Torres with a move to City. I think this is unlikely and if he does leave us in the future, it will not be to another English club from theses quotes. I'd hate to see him leave but if he does, I could accept him playing for FC Barcelona a lot easier than City or Chelsea. He is also very complimentary about Rafa and his man management style, not something you hear very often in the press.

We've opened out summer spending with a move for Charlton midfielder Jonjo Shelvey. It a done deal now for around £1.7m rising to £3m and it's connected with an arrangement with Charlton. He's only 18 but has been talked about as a talent for a few years. The Mail suggest we're signing 15 year old Swede Kristoffer Peterson who's been on trial at the Academy.