The 0-0 draw with Fulham on Sunday was sadly predictable. As is often the case when Torres is out, we lacked the cutting edge to break down a massed defence, despite all of our possession. Watching the game, it didn't look like a goal would come. Fairplay to Fulham, they parked the bus and got a point. They'll be happy with that. Ngog didn't have a great game up top. It was good to see Pacheco get another few minutes towards the end. Hopefully Rafa will continue to play him now that fourth spot looks gone.

We play West Ham on Monday night. They are in a desperate state and are fighting for survival so I can see their desire being greater than ours. There have been too many occasions this year where the players look like they don't care and aren't giving it everything. I can accept a player not being good enough, if he is trying. When they don't try, that annoys me.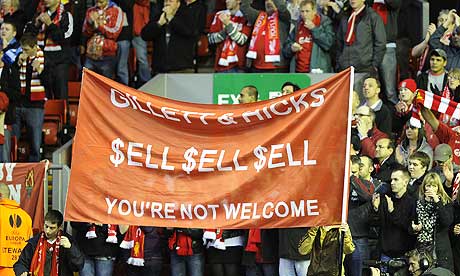 The big news this week was the statement from Hicks and Gillett that they're going to step down and appoint Martin Broughton as Chairman. This coupled with their stated desire to sell the club looks like good news. But we've had so many false dawns with them over the years that I'm remaining skeptical for now. Rafa gave a it a cautious welcome.

David Conn in the Guardian has a good piece on Hillsbourgh this week, the 21st anniversary of the disaster.

Young Hungarian Keeper Peter Gulacsi has joined Tranmere Rovers on emergency loan for a week. He should get a bit of game time while he's there. I'd happily let Cavalieri leave this summer and let the likes of Gulacsi step up as our backup keeper.