Thanks Hammers. A 3-0 home win was exactly what we needed ahead of a Europa league semi final on Thursday. The Londoners turned up in body but not in mind and didn't really look up for it. Yossi opened the scoring from a Gerrard free kick on the right. It tucked it into the net with his chest, not his arm as some of the defenders were claiming. Ngog got the second with a fine finish from a Maxi cross. The French kid has had the difficult task of doing a Torres impression with our Spanish talisman out injured. He did have Dirk as backup here and it seemed to help him. The lone striker role doesn't really suit David. Rafa was impressed with young Ngog's performance against the Hammers.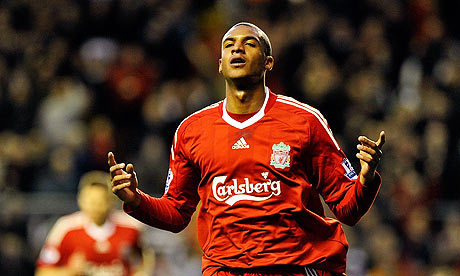 We added a third goal in the second half when a Kygiakos header hit the post and went in of Rob Green. The big greek is really dangerous at set pieces and could score a shed load if we get the delivery to him right. Zola and his charges offered nothing to trouble us and we were able to take our foot off the gas in the second half.

With the continuing air travel restrictions due to the volcanic ash cloud, Liverpool started a 24-hour journey to Madrid on Tuesday. It's a train, plane and coach journey to reach the Spanish capital, not ideal preparation for a European semi final. They players will probably be knackered when they get home later this week. Atletico will be tough opposition over two legs, especially now that El Nino will be absent for the rest of the season. It's a pity that Fernando is injured as he would have loved to have played against his old club. We'll be looking for the likes of Kuyt and Babel to deliver in his place. They have some dangerous forwards in Reyes, Forlan and Aguero, who is suspended for the first leg. Talented but flaky is how they're described by Sid Lowe here.

Paul Tomkins has an article detailing the importance of a good keeper and stresses the importance of Pepe Reina to the way we play. Maybe the way we played last year would be more accurate. I'm a huge Pepe fan and I'm thrilled he's signed his new contract. We won't do any better than him.