Just when I thought we were out, they pull us back in.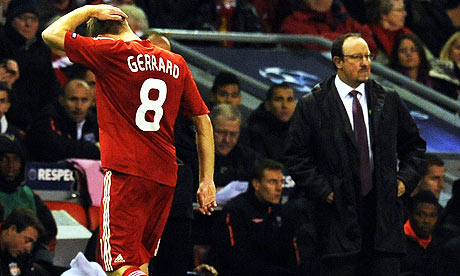 Crap. That was not what we needed. To break it down:
Kelly was brilliant at right back. Fantastic performance from the teenager and we

disimproved

when he came off injured. A star of the future.

Agger

looked better in the middle but still a bit rusty. How we've missed him bringing the ball out of defence. He's the one we can trust not to hoof it, losing possession. Far too much of that from

Skrtel

and

Carra

at the moment.
Pepe was in superb form again, as he has been all season despite a ropey defence in front of him. His saves in the lead up to the equaliser were fantastic but there was only so much he could do before one of them went in. He needed a dig out by one of the defenders.

N'Gog

started well enough but faded badly in the second half. He's improving but he's not really ready to step into the Torres breach just yet.
It now looks like we'll need to win our remaining games to qualify from the group and may need to beat
Fiorintina
by more than 2-0. Big ask to be honest but we've completed similar escape acts before.
So now it's the
Mancs
on Sunday. Bad timing. It looks like
GloJo
will be back but it's still touch and go on Torres and Gerrard. I don't fancy our chances without them. The team is short of confidence at the minute and we need our totems back. We've had such shit luck with injuries this year. International football has a lot to answer for here.
This
article by Paul

Tomkins
should be required reading for all Reds. It details his four hour chat with Rafa at
Melwood
. Amazing stuff but I'd love to read the off the record version.
Those at
Prenton
Park for Liverpool's reserve match v
Sunderland
on Tuesday were treated to some
crazy skills from Alberto

Aquilani
, no less. It was great for him to get a run out and I suspect he may get some game time in the
carling
cup match v Arsenal next week. But the problem for Alberto is that the expectations for him are increasing as our results get worse. If he's not
Pirlo
, Del
Piero
and
Totti
all rolled into one, he'll be declared a flop.