I didn't think we would do well here given the injuries and team we put out. However, I didn't expect us to beaten by a fucking balloon. In fairness, we played shit and deserved to be beaten regardless of the beach ball.

A 1-0 loss was disappointing but not entirely unexpected given the spine of our team was ripped out by international football. I considered backing Sunderland but didn't get around to it. Rafa went 3 5 2 and it was good to see Agger back even if he did look a bit rusty. Spearing and Lucas in midfield didn't really work. The Brazilian wasn't 100% after returning from South America the night before the game. It was a tough match for Spearing to make his league debut in and it didn't really go that well for him. Hopefully he'll learn from this and improve. Rafa wants him to become our new midfield anchor. They are big boots for the small man to fill.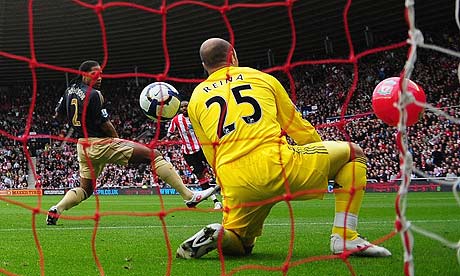 Next up we face Lyon in Anfield on Tuesday. Pjanic will be the dangerman, so I hope he doesn't have the impact that Jovetic did a few weeks back. I'm hoping that we'll have our players back for this one. Lyon are a good side and we'll need to win this one if we want to get out of the group. A loss here would send the knee jerkers and phone in shows into panic mode. They're not far away from that now.

Jamie Carragher has admitted that he's not happy with his own form. He hasn't been at his best this year but neither has Skrtel. Now that Agger is back, I can see him putting the two of them under pressure.

Didi Hamann is back at Liverpool, coaching the youths at the Academy with Frank McParland. I wonder if he is giving them betting tips and teaching them how to get away with a sneaky smoke?

Here's Nemeth in action against the Italian U20 team, doing well and scoring two goals. Hungary were knocked out in the end but it will have done the kid well to score and compete at this level.

Yossi's agent says he's happy at Anfield and isn't interested in a move to Man City. I would hate to see him leave after the past year he's had. He's one of our most dangerous players these days and who we look to after Gerrard and Torres.

Check out Paul Tomkins blog, the Tomkins Times. The Cascarino article is great.

The Mirror reckon we're after Vasco de Gama striker Nilton in January. I'd be surprised as it doesn't seem like Rafa has any cash to spend. Chris Bascombe paints a grim picture of the state of affairs in the NOTW.

The guardian interviewed Riera in their small talk section. He seems like a decent sort. Bit surprised he doesn't pay for his music often given the amount of money he earns.