Balls. When I saw the team sheet on Saturday I got very worried. 3-1 was the final result after a 1-1 draw at the break. We actually played well enough in the first half and things might have been different if Yossi had of scored rather than hit the bar in the first half. The defence we started was Insua, Carragher, Kyrgiakos and Degen which has a combined cost of £2.5m. Insua is having a poor time of it now and didn't cover himself in glory here. None of them did at the back. Degen was unfortunate to see a red and it may be rescinded on appeal. Then Carra went for a second yellow and we were down to 9. Laughable stuff. The only bright point was a stunning strike by El Nino.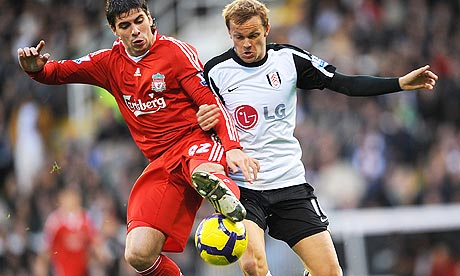 Lyon say that they're wary of the Liverpool threat. That threat has been lessened by the massive injury list we're suffering. The latest news is that GloJo and Aurelio aren't fit enough to travel. They will join Gerrard, Skrtel, Kelly, Riera and Dossena in the physio room. The more positive news is that Agger, Aquilani and David N'Gog have travelled. The big questions for me are who starts at right back as Degen isn't registered and dare we risk and Aquilani start? Darby may have to fill in for Johnson. It's either that or play Carragher there which hasn't worked at all recently. Starting Aquilani would be a big risk and I suspect it will be a case of him coming on for 20-30 mins at the end if he's needed. I'd love to see him start but I doubt he's ready for it. I'm really worried about this one. I think we'd win with our first team but we're far from that. A draw might be doable but I can't see us winning.

Dossena is being linked with a Jan move to Napoli. He's not playing much and will want to get some game time in to secure his world cup place. I wouldn't be too surprised to see him go if Rafa is assured he'll get to reinvest the funds. Spanish defender Mikel San Jose looks like he'll return to the Kop after a pointless spell on loan at Atletic Bilbao. We could be looking at a boost to our Hungarian community with Vladimir Koman who's currently playing for Bari. He's 20 and plays on the left wing and could cost us up to £4m.