It may sound hard to believe but we played pretty well in our 2-0 defeat in Stamford Bridge. I thought it was really even until we conceded the first goal. After that we over committed numbers forward and were caught on the break. To be honest, I thought our defence played really well bar the slip up at the end for the second goal. The midfield punched their own weight but neither Dirk not Riera gave great service to Gerrard and Torres, neither of whom had much impact. But our performance level was much the same as it was last season, the difference being that this time we didn't get the result. I wasn't too disheartened afterwards, just a bit pissed off that we have to wait two weeks to get things back on track.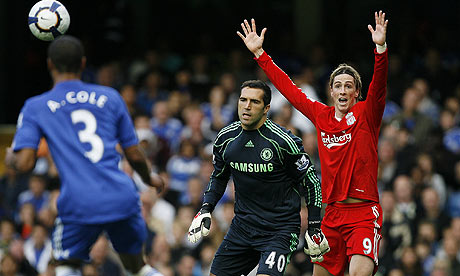 Ahead of the match, El Nino had an interview in the Guardian where he opens up on fatherhood and how he loves living on Merseyside. Sure the city is lucky to have him.

Carra says we're facing into a massive week after the international break, and he for one is ready. We face Sunderland away first up followed by Lyon and Man Utd at Anfield. Let's remember that Sunderland drew at Old Toilet, and only missed out on a victory by a cruel deflection off Anto Ferdinand's leg. This will not be easy and our defence will have to be on top of their game to deal with Bent playing as good as he ever has. Himself and Jones are a real handful. On the plus side, we might have a fit again Daniel Agger in the squad as he came through a reserve match last week. Aquilani is progressing well but is still about two weeks away for fitness.

Paul Tomkins doesn't pull any punches in his slating of Tony Cascarino and his ilk. Give's 'em what for.

Ian Ayre has some positive spin on the new shirt sponsorship deal on the BBC site. It sounds like they've done well on the commercial side, the downside being that the money will probably end up in the pockets of George and Tom, despite their protestations. You can read the full transcript of Gillett's interview with SOS here.